SPEEDSCENE MAGAZINE
Speedscene is a highly regarded magazine published by the HSA five times a year and is the only full size UK publication dedicated to the sports of speed hillclimbing and sprinting. Speedscene is free to HSA members and and available on subscription. It contains reports, articles, photographs and features covering all aspects of the sport. The high standard of production of the magazine and its A4 full colour format sets it apart from the normal club publication.
A typical edition of Speedscene includes:

Photos and reports from events nationwide
News from championships around the country
Features on personalities from the sport
Technical articles & reviews
Features on suppliers to the sport
Regular columns by officials, competitors, marshals, spectators and scrutineers
Reviews of motorsport books and videos
Current Issue - Speedscene 195 Aug/Sept 2017
Speedscene 195 begins with a timely, John Stewart, photo of 2017 British Sprint Champion, Heather Calder in her Gould GR55 at Knockhill on the cover. Co-incidentally the cover also features Trevor Willis, the newly crowned 2017 British Hillclimb Champion who is the subject of the issue's 'Introducing........' article.
Inside the reports begin with BHC events at Harewood, Bouley Bay, Le Val des Terres, Wiscombe, Shelsley and Gurston followed by BSC reports from Blyton, Kirkistown and Knockhill. The SBD HSA Speed Championship is covered with reports from Blyton, Wiscombe, Loton, Hethel and Gurston.
'Between the Beams' features the Formula Ford Challenge from Gurston, Motorsports at the Palace, Chateau Impney 2017, the Goodwood FoS and a round up of the NSCC Championship.
The issue has a strong technical theme with an update on Peter Hubbard's V8 2 stroke project, a report of the new OMS 3000M, a look behind the scenes at EVO Corse wheels and the low down on SBD's new and very powerful 1.6l Ford EcoBoost engine.
With introducing new and younger talent into the sport being much talked about there is a timely piece on 16 year old, Sam Wilson's debut in an OMS.
The issue concludes with all the regular items including Andrew Dinner's Pilbeam Ponderings, the Paddock Prowler, Wooster Sauce, Paul Parker's Technical and Otherwise, the Market Place and Jerry Sturman's Senior Moments.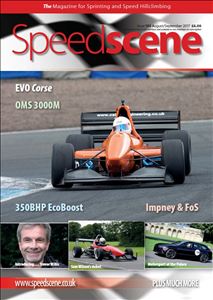 Current issue of Speedscene
£8.20 UK including P&P
Current issue of Speedscene
£10.20 outside UK (airmail)