SPEEDSCENE MAGAZINE
Speedscene is a highly regarded magazine published by the HSA five times a year and is the only full size UK publication dedicated to the sports of speed hillclimbing and sprinting. Speedscene is free to HSA members and and available on subscription. It contains reports, articles, photographs and features covering all aspects of the sport. The high standard of production of the magazine and its A4 full colour format sets it apart from the normal club publication.
A typical edition of Speedscene includes:

Photos and reports from events nationwide
News from championships around the country
Features on personalities from the sport
Technical articles & reviews
Features on suppliers to the sport
Regular columns by officials, competitors, marshals, spectators and scrutineers
Reviews of motorsport books and videos
Current Issue - Speedscene 196 Nov/Dec 2017
The Christmas 2017 issue, Speedscene 196, begins with a fine cover photo of British Hillclimb Champion, Trevor Willis' OMS 28 in action at Le Val des Terres by Andrew Le Poidevin.
Inside both Editor, Chris Bennett, and HSA Chairman, Les Buck say their farewells after five years in their respective positions with extended editorials reviewing the state of Speed events in the UK.
There are end of season event reports of the BHC at Prescott, Doune and Loton, the BSC at Anglesey and the HSA Championship at MIRA, Shelsley and Curborough. The 'Between the beams' section features a Steve Wilkinson photo spread from Bo'Ness, a review of the BOC/ALDON Classic championship and a roundup of all the major championship final positions.
Speedscene were invited down to Newquay airport to witness the Bloodhound SSC's first run on track and an interesting and technical article on the event was the result. The subject of the 'Introducing.....' feature is Tim Densham, a regular sprinter and hillclimber with an extensive motor sport pedigree as readers will discover.
Graham Blackwell continues his absorbing story of transforming his relatively humble Mygale Formula Ford into a 300+ bhp front running Speed event vehicle. Jon Maycock provides a novice's eye view from the cockpit of his MX-5 after the conclusion of his first year in Speed events while Charlie Martin recounts what is likely to be her final year on the hills in the mighty Norma M20 as she plans a circuit racing future.
Peter Hubbard continues undaunted with his project to squeeze a V8 two stroke into a sports racer for Speed events while the Chistmas Quiz makes its annual appearance.
The issue is rounded off with the usual items from Clive Wooster, Paul Parker, Jerry Sturman and the Paddock Prowler.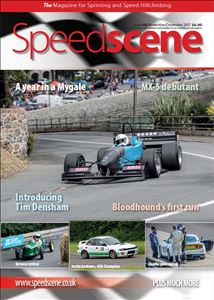 Current issue of Speedscene
£8.20 UK including P&P
Current issue of Speedscene
£10.20 outside UK (airmail)