SPEEDSCENE MAGAZINE
Speedscene is a highly regarded magazine published by the HSA five times a year and is the only full size UK publication dedicated to the sports of speed hillclimbing and sprinting. Speedscene is free to HSA members and and available on subscription. It contains reports, articles, photographs and features covering all aspects of the sport. The high standard of production of the magazine and its A4 full colour format sets it apart from the normal club publication.
A typical edition of Speedscene includes:

Photos and reports from events nationwide
News from championships around the country
Features on personalities from the sport
Technical articles & reviews
Features on suppliers to the sport
Regular columns by officials, competitors, marshals, spectators and scrutineers
Reviews of motorsport books and videos
CURRENT ISSUE - Speedscene 191 Nov/Dec 2016

The cover of the Christmas issue of Speedscene features the Mitsubishi Evo of Donald McGaskil at Le Val des Terres taken by Andrew Le Poidevin earlier in the season.
Inside the concluding reports of the 2016 season commence with the FIA Masters event at Sternberk followed by the BHC at Prescott, Doune and Loton. The final BSC rounds at Blyton and Anglesey and HSA rounds at Aintree, MIRA, Shelsley and the season finale at Curborough are reported on.
Between the Beams includes reports from Gurston and Harewood along with a season review of the NSCC Championship. John Brown again gives readers a spectator's (and more recently a paddock commentator's) eye view of the hillclimbing season. The section is concluded with Steve Wilkinson's photo report of the Bo'ness Revival meeting and a roundup of all the major championship final positions.
Speedscene's resident scrutineer provides an update on the latest single seater ROPS rulings.
This being the Christmas issue there is the traditional unusual 'Visit to.....' feature which, this year, takes in the Don Garlits museum of Drag Racing in Florida together with the customary Christmas Quiz. The 'Introducing......' series continues with the Marsh brothers, Simon and Peter which includes a description of Ski Bobbing.......
Graham Blackwell describe how his first season with a single seater Mygale finished - well as it happens. The story of the development of the new Force TA continues as the tub has been produced and the rest of the design is (almost) complete.
Formula Ford competitor, Ed McDonough, will surprise many readers with his account of the transition from endurance racer to speed eventer and his descriptions of many of the notable and downright famous cars he has tested in his roles as author and journalist.
Our other intrepid competitors, Charlie Martin, Andrew Dinner and Clive Wooster all provide their own unique insights from the cockpit of their respective cars.
The issue is rounded off with the familiar columns from Paul Parker, Jerry Sturman, Damon Milnes (who argues the investment case for hillclimb cars) and the Paddock Prowler.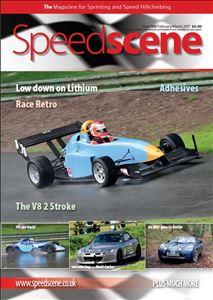 Current issue of Speedscene
£8.20 UK including P&P
Current issue of Speedscene
£10.20 outside UK (airmail)