SPEEDSCENE MAGAZINE
Speedscene is a highly regarded magazine published by the HSA five times a year and is the only full size UK publication dedicated to the sports of speed hillclimbing and sprinting. Speedscene is free to HSA members and and available on subscription. It contains reports, articles, photographs and features covering all aspects of the sport. The high standard of production of the magazine and its A4 full colour format sets it apart from the normal club publication.
A typical edition of Speedscene includes:

Photos and reports from events nationwide
News from championships around the country
Features on personalities from the sport
Technical articles & reviews
Features on suppliers to the sport
Regular columns by officials, competitors, marshals, spectators and scrutineers
Reviews of motorsport books and videos
Current Issue - Speedscene 197 Feb/Mar 2018
Speedscene 197 has a slightly different look and feel as it is the first issue from new Editor, Michael Calvert. The full page cover has a fine shot of Paul Slade's E Type at Shelsley's Top Ess taken by Rob McDonald.
Being the first issue of the year there are no events to report so it begins with a long article from our resident scrutineer on the subject of hybrid/electric cars in competition but with some interesting observations on their use on the public roads. This is followed by a couple of articles from Striker competitor, Mike Smith. The first looks at the opportunities for improving the 'competitor experience' at speed events while the second is a report of his (successful) return to the Exeter Trial in his MR2.
Former editor, Chris Bennett, starts a new column, Around & About, looking at all things motoring but with an eye on speed events. Stephen Morrison looks forward to another Championship season with the Nottingham Sports Car Club and we continue our look at the 'competitor experience' with an interview with the Chair of the MSA Hillclimb and Sprint Sub committee, Vernon Williamson and a response from the outgoing chair of the HSA, Les Buck.
Neil McDonald describe a season competing in a diesel car - a developed BMW 330d and this is followed by a 'Visit to...... Mathwall Ltd' specialists in American V8s amongst other things. Next up is a nice photo spread of the interesting machines spotted at the 2018 Race Retro and Graham Blackwell's on going story of developing his Formula Ford Mygale into a front running Sprint car.
Dampers are a subject that are important to vehicle performance but not always that well understood. Speedscene visits Meteor Motorsport to understand more. The issue finishes off with a short article on Rod Ends from our scrutineer, the answers to the Christmas Quiz, Andrew Dinner's Pilbeam tales, an update on Peter Hubbard's V8 2 Stroke project (looking good), book reviews, the Paddock Prowler, Wooster Sauce, a photo comptetiton, Paul Parker's technical column (also looking at electric vehicles), Jerry Sturman's Senior Moments and finally, a new feature, an excerpt from Speedscene 30 years ago.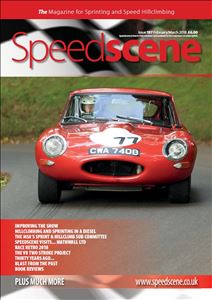 Current issue of Speedscene
£8.20 UK including P&P
Current issue of Speedscene
£10.20 outside UK (airmail)