SPEEDSCENE MAGAZINE
Speedscene is a highly regarded magazine published by the HSA five times a year and is the only full size UK publication dedicated to the sports of speed hillclimbing and sprinting. Speedscene is free to HSA members and and available on subscription. It contains reports, articles, photographs and features covering all aspects of the sport. The high standard of production of the magazine and its A4 full colour format sets it apart from the normal club publication.
A typical edition of Speedscene includes:

Photos and reports from events nationwide
News from championships around the country
Features on personalities from the sport
Technical articles & reviews
Features on suppliers to the sport
Regular columns by officials, competitors, marshals, spectators and scrutineers
Reviews of motorsport books and videos
Current Issue - Speedscene 194 June/July 2017
The cover of Issue 194 features an increasingly rarely seen Westfield XTR of Brian Beverley taken at Doune by John Crae. This example is rather smart and quick too, beating an ADR and a couple of Radicals.
The 2017 season is well under way so there are plenty of reports from the BHC (Craigantlet, Harewood, Gurston, Loton and Dounne), the BSC (Snetterton and Pembrey) and the SBD HSA (Aintree, Werrington, Llandow, Snetterton, Llys y Fran, Pembrey, Curborough, Shelsley and Prescott).

Between the Beams takes in Wayne' Boyd's guest appearance at Cultr and the first two rounds of the Formula Ford Challenge at Snetterton. Gurston's 50th Anniversary is celebrated with a two page colour spread by Steve Lister.
An unusual 'A Visit to.....' takes Speedscene to meet with Jamie Champkin - the International Motor Sports lawyer while Jeff Allan investigates the very topical issue of electric vehicles.
The Editor visits the famous Trento Bondone hillclimb in Italy and is surprised by the different approach to track safety compared with the UK (not least the bears!). The subject of the 'Introducing.........' feature is well known, competitor, journalist and commentator Steve Wilkinson and Peter Hubbard provides another update on his V8 two stroke project.
Charlie Martin describes how different it is running with a top professional team (Schatz Competition) in Europe compared with doing it all herself.
The issue is rounded off with all the usual columns including Pilbeam Ponderings, Wooster Sauce, Techical & Otherwise and Senior Moments.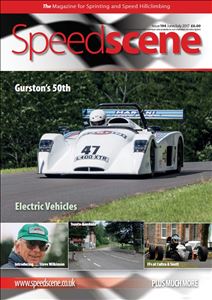 Current issue of Speedscene
£8.20 UK including P&P
Current issue of Speedscene
£10.20 outside UK (airmail)