HSA SPEED CHAMPIONSHIP - REPORT ARCHIVE
Reports for 2016
Reports for 2015
Reports for 2014
Reports for 2013
---
JONES ONE/TWO AT CURBOROUGH FINALE ​
Event 32 at Curborough on 08/10/2016
After a storming 1.89sec launch off Curborough's startline and total commitment into the first bend, Chris Jones set the outright pace at the HSA's Championship finale in his 1-litre Force PT and moved into the Championship top ten overall. With potential front-runner Simon Keen striking differential problems in his Dallara-TKD V8, all the fastest times came from a typically frenetic 1100cc racing class which saw the first nine finishers (out of 15) inside Curborough's half-minute barrier. Early leader Martin Jones was first into the 28s in his own Force PT, swiftly followed by Chris Jones (no relation), who slipped another tenth inside his namesake on his second run to take the eventual win with a 28.65 - one hundredth of a second inside Gary Thomas's HSA class record. Adam Steel ran third overall in the 'budget' Martlet-Suzuki, just outside the 28sec bracket and ahead of Michael Andrews. Driving his father Simon's OMS-Suzuki 28 alongside the car's regular co-driver Bernie Kevill, Michael finished seven tenths behind the outright winner despite the OMS's engine being somewhat tired with a cracked block after a hard season of competition.
With the 2016 Championship title already in the bag before coming to Curborough, Matt Carter got his final SBD/HSA foray off to a less than ideal start with a wild spin out of Paddock Bend in his Radical PR6. But second time round he was back on winning form, elbowing Clive Wooster's Radical off the top spot in the sports libre class and finishing eighth FTD behind the first bunch of squabbling 1100cc racers. In the absence of the third placed Matt Hillam, Andrew Till's second overall in the series had also been decided but the MG ZR105 driver ended the season on a high note with a class win and second overall in the Alan Payne run-off. This annual class winners' shootout was won by Richard Summers who, after defeating regular sparring partner Russell Haynes in the Formula Ford class, carved the best part of four tenths off his winnng time in the venerable Van Diemen RF80.
Another to recover from a first run spin, Alexander Smith bounced back to win the Mazda MX5 class by a handsome margin from Rhys Jones. But already dropping substantial points, his time, over a second away from Nick Mugglestone's 2011 record, wasn't quite quick enough to allow him to overtake the absent Hillam for third overall in the Championship.
A full report will follow in Speedscene.
Final Championship positions: 1 Matt Carter 149pts; 2 Andrew Till 138; 3 Matt Hillam 131; 4 Alexander Smith 130; 5 Chris Berrisford 127; etc.
The full points table can be found in the HSA Championship section of the website.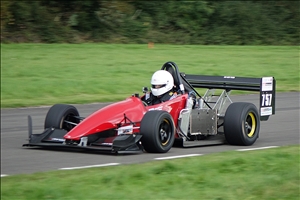 A record-breaking run by Chris Jones set FTD (Steve Wilkinson)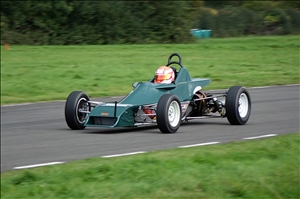 Richard Summers won the Alan Payne run-off in his Van Diemen FF (Steve Wilkinson)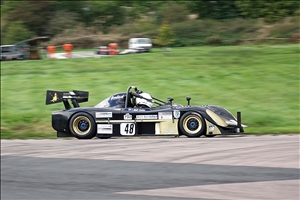 2016 champion Matt Carter ended his HSA season with a class win (Steve Wilkinson)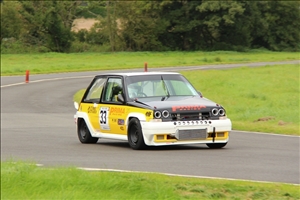 Tony Hart easily won his Mod Prod class in his very rapid 5 GT Turbo (A Leivers)
---
FTD for Hollingworth (just) at Shelsley
Event 31 at Shelsley Walsh on 17/09/2016
The venue was looking at its best for the first day of the Autumn Speed finale week-end with the grass freshly mowed, the track freshly swept (new road sweeping contractors according to the management) and everything else looking very tidy.
It was warm and dry all day with the clearest and warmest conditions occurring just after lunch and during the first timed runs which saw many competitors post their quickest times of the day as clouds appeared and temperatures dropped later in the afternoon. Richard Hollingworth took FTD on his first timed run in the menacing black 1600cc DJ Firehawk with a 27.49s showing remarkable consistency as all four of his runs were within 0.19s of each other. He was closely followed by Richard Summers, also in a DJ Firehawk (but in white and running in the 1100cc class), on 27.55s and with Chris Jones a little further back in the red Force PT who posted a 28.03s.
There were plenty of HSA competitors in attendance including Peter Hubbard who had an eventful practice in David Bennett's Marcos GT. Spectators were surprise to see the reversing lights come on at the startline as the green light appeared. Asked when he first realised he was in reverse, Peter replied "when I ran over the starter's chock!". Second practice wasn't much better as he found fourth instead of second going into Bottom Ess but his timed runs were much better. Another competitor with 'chock issues' was Steve Barnard whose Audi TT took the chock with it and only let it go through the Esses!
In the small Series Production class Andrew Till took a good win with the MG ZR while the well supported 2000cc class was full of HSA competitors with Adam Greenen (Civic Type R) winning with an impressive 34.98s from Mike Henney's Lotus Elan which was performing much better this week-end in the dry conditions. Sandy Smith won the battle of the MX-5s (as usual) but was surprised by a hard charging Ken Morris only 4 tenths behind with the MK1 Merlot example.
In a sign of the times the two merged Specialist Production classes saw only 4 competitors but John Bradshaw was on form and won with a good 32.11s run.
Similarly the well supported smaller Mod Prod class was an HSA affair as Eric Morrey (Hillman Imp) won from Mike Gallery (Cooper S) with Martin Rutter (Fiat X 1/9) and Michael Gleaves (in his first year of Speed events with his MGF – "built from 3 ex circuit race cars") further back.
A couple of Radicals, normally seen sprinting, appeared in the form of the SR4 of Speedscene columnist Clive Wooster and the PR6 of HSA Championship leader, Matt Carter. Clive was pleased to a) keep ahead of Matt in practice and b) set a PB despite ultimately losing out to an impressive class winning 28.26s run by Matt.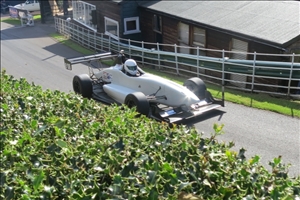 It was Firehawks day at Shelsley. This is Lindsay Summers (C Bennett)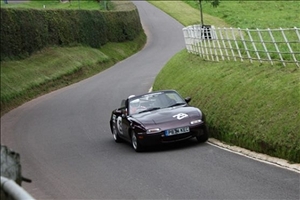 A tight line into Crossing worked well for Ken Morris (B Ridge Stearn)
---
Carter from Jones at (very) wet MIRA
Event 30 at MIRA on 10/09/2016
Most competitors arrived reporting a dismal journey to the event enduring mist, rain and, for many, a start in darkness. Despite a promising forecast, the rain persisted, on and off, throughout the day with only the final run seeing the dispersal of most of the standing water that had blighted the three practice and two timed runs that had been provided by the Midland Automobile Club.
In the end it was SBD HSA Championship (and Service Hydraulics) leader Matt Carter who took FTD with his Radical PR6, being the only driver to get under 50secs with a 49.78s final run ahead of Chris Jones who put in a storming final run to take second FTD and win the competitive 1100cc class in his Force PT with a 50.36s from Stuart Bickley's Jedi on 51.43s. Just behind was Pete Goulding in the Mygale M13 (51.53s) who not only got the better of similarly mounted Graham Blackwell but also won the large Racing Car class.
The conditions caught out a number of competitors for a variety of reasons. Mike Smith encountered a couple of problems before the event even got underway, including a flat battery and a dispute over waterproof coveralls and made a hasty exit leaving George Newrick to get the better of former HSA Champion, John Bradshaw, on this occasion to win the small Kit Car class. A number of slick shod competitors had no wets on hand with Simon Boulter trailering his OMS after a couple of scary practice runs on slicks. Simon Wallis (Terrapin) and the Luxton/Hutchins duo (Pilbeam MP88) bravely continued on slicks.
Spins and offs were really too numerous to mention but those of note included Mike Henney (Lotus Elan) and Philip Stader (Alfa Berlina) who, despite being in different classes, were enjoying some friendly rivalry with Philip happy to be ahead after T1, not least because the Elan 'had only failed to spin once in three runs' and was described as being 'a little b-----d in the wet!'. However, on T2 the Alfa had a tank slapper exiting turn one and climbed the tyre barrier just avoiding ending up on its roof. Philip was unhurt although the Alfa suffered extensive panel damage – but nothing more serious unfortunately and was planning to be back for the season finale at Curborough.
Elen Worthington was another front runner suffering from the conditions as the Elise is very twitchy in the wet while Gavin Neate and Chris Bennett were also amongst the spinners.
However, some competitors were thoroughly enjoying the conditions (!) exemplified by Adam Phelps whose philosophy was 'we're going to get wet so forget it and just enjoy it'. It clearly worked as he duly won the large Westfield class with an impressive 54.18s run from Adam Reed and Father, John Phelps.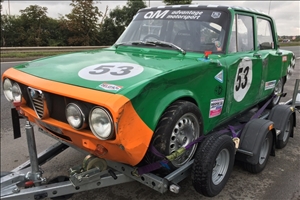 Philip Stader's sorry Alfa on the way home
---
Wet, Wet, Wet at Aintree as Graham takes FTD
Event 29 at Aintree on 03/09/2016
The forecasted rain hit Aintree about 9.30 in the morning and didn't stop all day. Practice was wet but surprisingly grippy, T1 similar but then as the downpour intensified, standing water made conditions untenable. LMC tried all they could but took the wise decision to stop the meeting using T1 times as the result.

John Graham took FTD in his big Gould GR55b with a 46.46s run ahead of the battling sports racers of Paul Horrox (47.11s) and Ian Rowlance (47.23s).

Despite the conditions, points still make prizes and the first HSA member up was Geoff Lancaster in his Clio 2 who put in a 69.99s. Next up was Ken Morris in his Maxda MX5 who took a good 3rd place in class on 60.49s.
In the bigger Roadgoing class Paul Trill in the Mazda RX7 recorded 59.60s for 4th place. Usefully having 4WD, Chris Berrisford in the Impreza won his class on a 54.71s and Helen Currie in her Clio Trophy was 4th on a 63.10s.

Elen Worthington took her Elise to a dominant win in the Lotus class with a 61.13s.In Mod Prod up to 1400cc Gavin Neate in the Peugeot and Julian Harber in the Mini clubman took 1st and 2nd places with a 59.21s and 59.52s respectively. Dave Mockford's MG Maestro was 5th in Mod Prod 1400-2000cc on a 61.79s. Graham Mintram in his Sylva Pheonix took 3rd place on 59.60s in the Kit car class.

Sports Libre up to 2000cc saw Clive Wooster record a 53.71s for the win in a much depleted class. Father and Son duo Mark and Russell Haynes took their FF1600 to 6th and 7th on 60.28s and 59.07s with Ed McDonough on a 65.74s in his Dulon with the class being won by a dominant Geoff Ward with his Swift with a 54.32s.

In Racing cars over 2000cc it was Graham Blackwell in his Mygale who recorded 56.41s for 2nd in class. Final HSA runner in Classic cars was Graeme Williamson in the Imp who took a fine class win on 66.71s.

Clive Wooster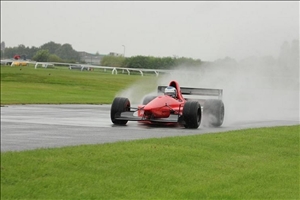 John Graham battled the elements to take FTD (Brian Taylor)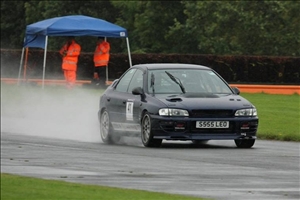 Chris Berrisford used the Impreza's 4WD to good effect (Brian Taylor)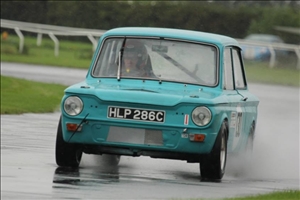 Graeme Williamson concentrating hard in his Imp (Brian Taylor)
---
TILL AND GREENEN TOPS AT GURSTON
Event 28 at Gurston Down on 28/08/2016
Nineteen HSA contenders gathered at Gurston's August National for the Championship's second visit to the Wiltshire hill this year and despite mixed weather conditions, Adam Greenen and Andrew Till both broke their respective HSA records for a maximum 17 points, Till's performance boosting his Championship standing to third overall. Greenen is a regular class winner and current class record holder in Gurston's 2-litre Roadgoing class, so it was no surprise that his Honda Civic Type R led throughout despite coming under pressure from 2-times Gurston champ Paul Webster's MX5. Till was running in the 7-car HSA B licence class, this 'mixed bag' division headed by the lightweights; the Raw Striker of James Robertson and Colin Bowdidge's Caterham Supersprint. But Till's 43.64 for fifth place was enough to break his own HSA record set back in May in the MG ZR 105.
The next highest HSA scorer, on 13 points, Eric Morrey brought out his turbocharged Imp to mix it with the rapid Minis in Gurston's hotly contested 1400 ModProd cars and was delighted to split the two 16v BMW headed pacemakers, regular winner Neil Turner and class record holder Jim White. Next up on the scoreboard was Russell Haynes with 11 points. Always near the front in Gurston's increasingly popular Formula Ford class, he finished third in the rare Zeus ZR 163.
Four drivers were on ten points. John Watson running midway down a 16-strong class of BARC (SW) B licence competitors in his Elise, while Mazda man David Newman might have scored more but for a second run spin at Karousel, unfortunately on his second, drier run. Already dropping points, his 10 on the day was discounted and he failed to break clear of a tie with Steve Broughton for fourth overall on the series table. Adam Phelps took on the Specialist ModProd Gurston regulars in his Megabusa and lay second to class record-holder Mike Rudge on the wet first runs, but despite running within a quarter of a second of eventual class winner Anthony Orchard on a drier track, his best time was only good enough for fourth place as the local hill experts stormed through, Phelps' consolation being that his points haul moved him up two places to ninth overall on the HSA table. The remaining 'ten pointer', Fyrth Crosse, survived a lurid high speed spin at Hollow on his first run in the Dempster Ensign, but recovered to take another Historically Interesting class win from regular sparring partner Hugh Kemp's Palliser and Mike Broome's immaculate Alexis.
A full report will follow in Speedscene.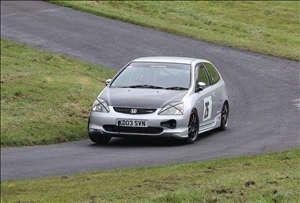 Class winner Adam Greenen took a maximum HSA points haul (John Hayward)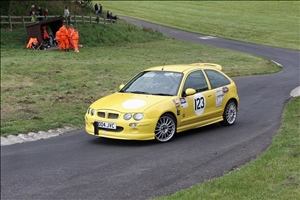 Andrew Till's maximum score earned third overall on the HSA table (John Hayward)
---
Beesley from Goulding at Hethel
Event 27 at Hethel on 07/08/2016
At Borough 19's popular Hethel Sprint, Tony Beesley took FTD in his familiar green Jedi MK4 with a 117.45s final run from Pete Goulding's fast improving Mygale M13 on 118.52s.
Ten HSA competitors made the trip to Norfolk including Martin Pickles, back out again in his Jedi MK1 following his recent engine maladies but had to be satisfied with third in class behind Beesley and Stephen Chaplin' Jedi MK6. One of the best performances came from Charlie Reilly in his Van Diemen RF92 who broke the HSA class record and won his class on the day.
Another good performance came from Stephen Laing in his Caterham R500, winning a big class, albeit a couple of seconds adrift of his HSA class record set last year.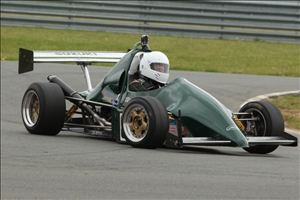 Hethel FTD for Tony Beesley, pictured at Snetterton earlier (A Leivers)
---
Summers' FTD at glorious Loton
Event 26 at Loton Park on 06/08/2016
After a very mixed summer up to this point, competitors enjoyed glorious warm and sunny weather at Loton Park and saw plenty of PBs being set.
FTD went to BHC Champion Alex Summers guesting in Graham Wynn's Gould GR55 with a 46.58s final run just ahead of Jason Mourant's similar car on 46.70s. Summers was having to make something of an adjustment with 'about 500bhp more than I had last week-end'!
The best HSA performances came from Ken Morris who beat all the other HSA MX-5s present with a 67.17s, Chris Jones, who took the 1100cc Racing Car class in the Force PT by 0.15s from Jim Spencer's Reynard and Simon Andrews guesting in Lindsay Summers' (another PB) DJ Firehawk and finally Graham Blackwell taking in an occasional Hillclimb with the Mygale M13 and finding it a bit of a shock after Sprinting all year.
Elsewhere, the rest of the HSA's 23 competitors present were finding that, being a popular venue, there were some demanding class records to measure themselves against and despite good personal performances high scores were hard to come by.
Steve Brown's 54.45s run in his Westfield Megabusa was quick but only good enough for 6 time points. Paul Batey was going well in his "retirement project" Rawlson Imp until over confidence led to a confrontation with the barriers and some cracked fibre glass although the matching orange duct tape hid it well!
Others had their own personal stuggles – Paul Wells at least achieved his target of completing 4 runs in a single day at Loton despite braking problems with his Peter Roberts' Jedi MK4 due to a failed rivnut. James Robertson, in his first year of competiton having taken the unusual route of diving in at the deep-end with his self built Mod Prod Striker (slicks, paddle shift etc.) was on a steep learning curve but enjoying it thoroughly.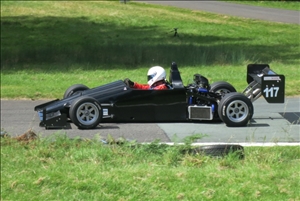 Jim Spencer's Reynard 883 was 2nd by just 0.15s in the 1100cc classard in the 1100s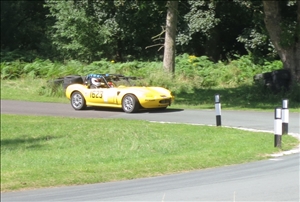 Rob Pallett's Ginetta G20 was 2nd (on scratch) in the Classic Marques
---
Five more HSA records on Hot Sunday
Event 25 at Wiscombe Park on 31/07/2016
Hot Hot Hot. the sun was out and the crowds were in. It was the largest spectator crowd I have ever seen at Wiscombe and a magic show was put on for them. Sunday saw a few more HSA competitors join us, Andrew Till in his MG ZR, Philip Stader with his beautiful Alfa Berlina and Mike Henney with his Lotus Elan. During the practice runs Brad Drowne had driveshaft problems, and with the help of numerous people and his Dad, Paul, they managed to build two new shafts and fit them before the timed runs. We also saw Nick Blight in his extremely well polished Fiesta have problems as well, and also fix them before the timed runs. Practice runs and the first timed run were all completed before lunch, which meant a long wait again for our final run. Chris Berrisford took class honours in his Impreza with Brad Drowne second showing his dad how to drive their AX beating Paul's time by over a second.
Drive of the weekend goes to Lewis Devereux who had a BP of 50.99 in his MX 5 1600, a truly impressive drive.
The weekend was fantastic and the HSA class drivers all put on and impressive display. It was great fun and although the days were long, the event was very well organised. We just need to have had a larger burger van as the queue was rather long on Sunday due to the large number of spectators.
Five new HSA records were set: Andrew Till in Class A1, 51.12 secs. Chris Berrisford, Class C3, 43.41 secs. Graeme Williamson, Class N, 53.67 secs. Mike Henney, Class V, 47.66 secs. Ed McDonough, Class X, 50.77 secs.
Report by Chris Falcon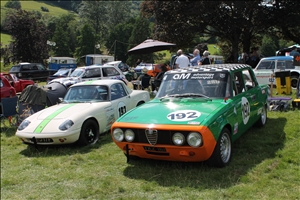 Mike Henney's Lotus and Philip Stader's Alfa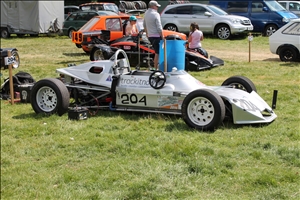 Ed McDonough's Dulon MP15 Formula Ford
---
Two class records at Wisombe
Event 24 at Wiscombe Park on 30/07/2016
The weather gods were with Wiscombe again this year with Saturday overcast but still very warm and humid. The track was dry so good times were hoped for by all 15 SBD HSA class entrants who were spread between 7 different HSA classes but grouped together by Woolbridge Motor Club into a single HSA Class.
In A2 Helen Currie in her Clio Trophy beat both Leigh Andrews (Mazda RX8) and Graeme Procter (Abarth 500).
In the MX5 Class David Newman came out on top of the class with second and third, John Pollard and Steve Devereux respectively, being separated by just two hundredths of a second. Lewis Devereux and Chris Falcon tookl the remaining points.
Class A3 was also close with first and second place separated by only three hundredths of a second as Sarah Davies got the big BMW 330ci up the hill just that bit quicker than her husband Chris.
Chris Berrisford was alone in Class C3 but beat the HSA class record when he did a 43.61 in his Suburu Impreza.
James Robertson in class D scored his best points of the season (13) in his Raw Striker, beating Graham Mintram into second place in his Sylva Phoenix.
Graeme Williamson, a long time HSA regular, made his first journey down to Wiscombe and was at first underwhelmed but left declaring it one of his favourite hillclimbs. Maybe that was because like Chris Berrisford he too broke his class record in his Imp, leaving the Class N record standing at 53.72.
Finally, Ed McDonough in his Dulon MP15 Formula Ford posted a time of 52.91 and gained a useful 15 points.
The day was very long with a wait of nearly 3 hrs for our final run but when a Nat B event shares the day with a Nat A event you have to expect that.
Report by Chris Falcon and Bob Ridge-Stearn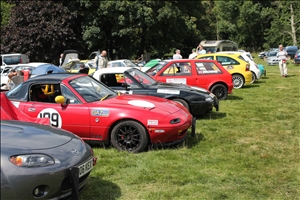 A separate HSA class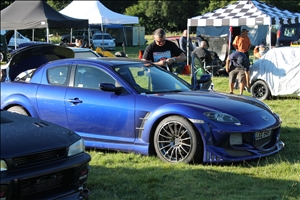 Leigh Andrews, Mazda RX8
---
Llys y Fran Hillclimb - Swansea Motor Club
Event 23 at Llys Y Fran on 17/07/2016
Saturday evening was warm and misty for those walking the hill at Llys Y Fran, but the venue's idyllic views and the awe inspiring Dam more than made up for the weather. The track around Shellards, under the trees, was very slippery and had potential for some interesting moments. Made worse, in the early hours of Sunday morning, by a torrential downpour.
The sun started to break through after lunch drying the track out ahead of competition and allowing the huge crowd of spectators to see the reservoir in its full glory.
The first timed runs of the afternoon showed the improvement of track conditions with no 34 Lee Champion posting a 54.47 in his standard MX5. Second timed runs of the day saw Birthday Boy Julian Harber, in his immaculately turned out Mini, post a very impressive time of the day of 51.59 which was enough to give him a class win and also set the new HSA Class record. Lee Champion in car no 34 won his class in his MX5, 2nd place was taken by Steve Devereux and 3rd place by Lewis Devereux.
Despite ongoing teething problems with the Westfield, Adam Phelps also set a new HSA class record at Llys-y-fran and battled for FTD, which finally went to Simon Rogers in his Caterham Hyabusa.
After engine failure at the end of last season and a long recovery period, it was Team Custard's first outing of the season and it was great to be back and seeing all of those HSA T-Shirts around the paddock.
Lynn Gilbert and Dave Mockford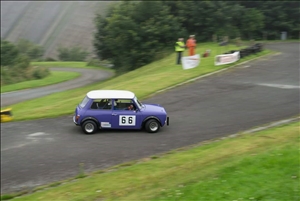 Julian Harber attacks the hill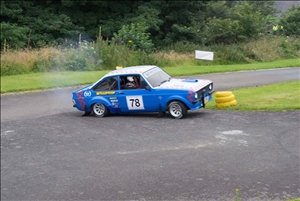 Well it is Rally Country!
---
Jones takes maiden FTD at damp Llandow
Event 22 at Llandow on 16/07/2016
Chris Jones scored his first FTD at Llandow on a day that started wet and became almost dry as the day wore on. It wasn't an easy result as the Force PT had been behind Ian Parr's (ex Brad Hobday) Jedi MK4 during practice and was still more than half a second behind after the first timed run. A fully committed final run (which needed a deep breath at the chicane) saw Jones turn the deficit into a 4 tenths advantage with a 71.00s effort. Parr emerged as second FTD with a 71.42s ahead of Duncan Barnes' Dallara F301 on 75.36s.
BARC Wales assembled and excellent entry of more than 100 competitors with a strong entry from the Lotus 7 Club championship. The up to 2000cc Roadgoing Production class was well supported and included 4 of the HSA's MX-5 contingent and it was a confident Sandy Smith who not only won the class by a couple of tenths from Jon Lannon's Saxo VTS he also knocked 2 seconds of Alan Mugglestone's HSA class record and moves ahead of David Newman for the Class lead in the Championship.
Elen Worthington overcame her Blyton spinning woes by dint of some setup changes to take the Elise Class ahead of Andy Mitchelmore (who himself had a couple of spins in practice) and John Watson who has recently moved from circuit racing to Speed events. Another circuit racer, Rob Way, who had previously competed in Sprints and Hillclimbs for a number of years returned for a run out in Father, Colin's Westfield and won the Mod Kit up to 1800cc Class by a couple of tenths from John Loudon's similar car while in the over 1800cc Class Derek Hodder came from behind to overtake Gary Bunn in their shared Westfield. Yet another returnee, this time from rallying, Phil Skipp won the up to 2000cc Mod Prod class.
Notable performances in the Lotus 7 Club Classes saw Clive Marsden beat Richard Abraham in Class one by 0.08s and Mathew Jenkins come in ahead of Richard Price by 0.14s in Class 3. Shaun Elwell's 77.43s to win Class 6 was also impressive.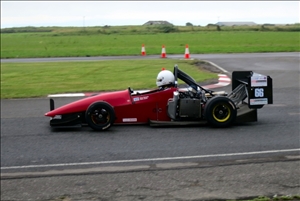 Chris Jones on his way to FTD in the Force PT (C Bennett)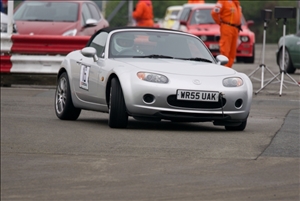 Sandy Smith set a new MX-5 record (David Meadows)
---
It's Graham and no mistake
Event 21 at Blyton Park on 10/07/2016
The second day of the WSCC Blyton double header started out clear but the Steve Miles weather tracker was indicating a band of rain heading towards the track. It duly arrived mid morning but as it was warm and windy the track only got damp rather than soaked so most competitors with a choice, remained on slicks.
John Graham made the most of the Gould's 2.8 NME power and recorded a 58.02s to take FTD ahead of the squabbling pack of 2litre Racing Car class competitors. These were led by Matt Hillam in the SBD Dallara on 58.50s a scant eight hundredths ahead of Nick Algar's supercharged DJ Firehawk with Saturday's FTD man, Steve Miles, another half a second behind.
In the other classes things were pretty much as the day before. Gordon Peters in the dramatic Nissan 350GTZ just won the over 2 L SPorts Car Class from Hamish Gibson's EVO 9. In the Westfield Classes (there were 9 of them!) the familiar names of David Cleaver, Tim Nunn and Gary Bunn all took wins while Chris Jones again won the well supported 1100cc Racing Car class after contending with a flat battery and loose radiator fan.
Russell and Mark Haynes had turned up with their Zeus Formula Ford and Russell gave Saturday's class winner, Geoff Ward (Swift SC93) a bit of competition while setting a new HSA class record. After recording a DNF on T2 Peter Goulding was beaten (over the first two timed runs) by a delighted Graham Blackwell in their identical Mygales although Goulding used his superior power to move well ahead on T3.
Jeff Wiltshire was in a class of one despite there being plenty of other Mod Prod specialist production cars present as they were all in their respective WSCC classes. Elen Worthington was back in her 'no.1' Elise with a new engine but still looking for more confidence from her 2016 tyres and was similarly in a class of one. Julian Harber was also a Sunday joiner in his self prepared and very smart Mod Prod Mini Clubman finishing second to Gavin Neate in toe 1400cc Saloon Car class and aehad of Geoff Lancaster's Clio.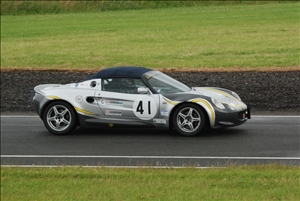 Elen Worthington was back in her familiar Elise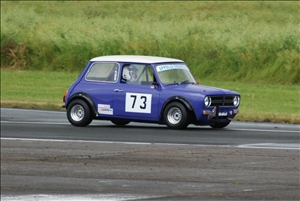 Julian Harber did the Sunday event in his smart Mini Clubman
---
Miles wins as Graham spins
Event 20 at Blyton Park on 09/07/2016
The Saturday part of the WSCC's Blyton double header dawned cloudy but dry. However, by mid morning the dark clouds rolled in and soon the track was awash eventually leading to a halt in the proceedings to give the large areas of standing water a chance to drain away or evaporate. The effect of such heavy rain was to clear the track of any rubber leaving it very 'green' and lacking in grip.
By the time that timed runs began the track was dry and of all the many British Sprint competitors present (and hoping to get some track time ahead of the BSC round later in the year) it was expected that John Graham in his Gould GR55 would be the pace setter. This wasn't to be though, as coming through the fast Port Froid esses the car let go and spun. Coincidentally the same thing had happened to Steve Broughton's Dallara the lap before and heads were being scratched. On Graham's second run he was adjudged to have put a wheel over the white line coming out of the last corner and his time was disallowed. This somewhat contentious rule had been spelt out by the Clerk a the drivers' briefing and is a consequence of the limited stopping distance following the finish line place just after the last corner.
Thus it was left to the BSC 2 litre runner,s Steve Miles, Nick Algar, Matt Hillam and Steve Broughton to fight over FTD honours with the victory going to Miles on his final run with a 59.87s and the only sub 1 minute time of the day.
In the classes Stu Hill's MK1 MX-5 narrowly beat John Pollard's MK3 example and in the huge Lotus Class (actually up to 2l sports cars) NSCC scorer Stephen Morrison had a similarly narrow win over Nigel Hannam and Paul Martin's similar Elises. Tim Nunn and Terry Everall continued to compete fiercely with each other in their Westfields with Nunn coming out on top by 0.3s.
Generally times were a little lower than previously and, of all the HSA competitors, it was only Chris Jones who broke an existing record in the process of taking the 1100cc racing car class in the Force PT by a tenth from Simon Boulter's OMS. It was Chris' first Class win in the car and came after the car became stuck in gear during practice. After a lot of investigation and texting back to car's engineer a broken wire was discovered in the loom leading from the paddle shift to the control unit!
Other notable scorers were Pete Goulding in the impressive Mygale and Rowland Turner, enthusiastic as ever, in the Escort Mexico.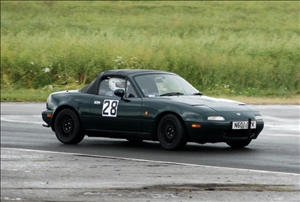 Stu Hill making the most of the MX-5's weather protection (C Bennett)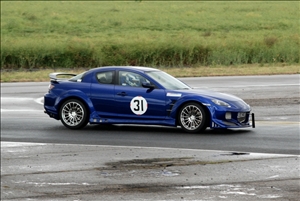 Leigh Andrews missed third place by a hundredth! (C Bennett)
---
Michael Tregoning's FTD at Reg Philips Trophy Meeting
Event 19 at Shelsley Walsh on 02/07/2016
Some 26 SBD HSA speed championship contenders took part in the 2 July Shelsley Walsh meeting and they recorded a number of successes, both in terms of the championship and the event classes. It was Michael Tregoning, however, who took the award for FTD at 27.51 as he won the over 1600cc racing car class
Classes A1 and A2 for under 2000cc roadgoing series cars were combined in a class of 18. Dave West won in his Peugeot 106 GTi, but Andy Mitchelmore ran well to come second in his Lotus Elise 111s. Dave's son Nicolas came third in the shared Peugeot, while Mike Henney (Lotus Elan S3 FHC) was fourth, Alastair Clark (Elise S1) fifth and Ken Morris sixth in the first of the three MX5s entered. Andrew Till also scored well in the first of the A1 cars in his MG ZR105.
Paul Trill (Mazda RX7) had a third place finish in the over 2000cc division, followed by Colin and Sarah Davies' BMW 330Ci. Next up, John Bradshaw won the merged B1 and B2 class for specialist roadgoing production cars in his B1 Sylva Striker, with Anthony Earl third in his B2 Caterham.
In the modified series production classes, Mike Gallery (Morris Cooper S) came second in the up to 1400cc division, and Philip Stader (Alfa Romeo Berlina 1750) was third in the 1400 to 2000cc section. Steve Brown (1500 cc Westfield Megabusa) won class D for modified specialist production cars, and Paul Batey (Hillman Imp) came second in the merged F and G classes for sports libre and hill climb super sports cars.
The pre-1994 Formula Fords and 1100 to 1600cc racing car classes were merged, with Nicholas Scott coming out on top in his 1300cc Force HC, and Russell Haynes (Zeus ZR163)was the first FF home in fourth overall. Fyrth Crosse gave his rapid Mallock U2 Mk2b another airing in the classic pre 1975 sports libre and racing car class, and was rewarded with an overall win, and Jeremy Smithson scored good class X points, just three tenths behind Fyrth in second place.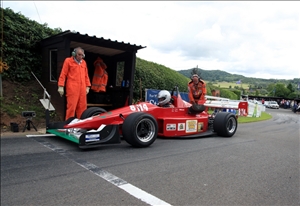 Mike Tregoning's Pilbeam MP88 took FTD (R MacDonald)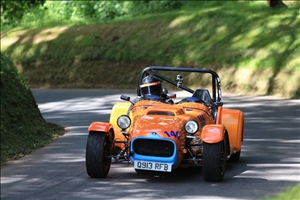 Mike West's Westfield at Top Ess (R MacDonald)
---
THE HSA AT PRESCOTT
Event 18 at Prescott on 26/06/2016
Round 18 of the 2016 SBD/HSA Speed Championship was run concurrently with the Midland Hillclimb Championship weekend at Prescott. Some 27 contenders were entered of which 20 were B licence holders who competed in their own HSA 'Class S' on Saturday, while the remainder competed on Sunday within the usual A licence classes.Those who took part on Saturday had to contend with a series of rain showers, however the rain held off until late afternoon on Sunday.
Lawrence Marks was a solo runner in HSA class A1 in his smart Fiat Panda, but there were four Saturday runners in A2, with Helen Currie in the Renault Clio Trophy edging out Graeme Proctor's Fiat Abarth 500SS and Jeremy and Alexander Evans in their shared Mazda RX8. However, Andy Michelmore's time running on the drier Sunday was enough to shave 0.24 seconds off his own class A2 record.
Class A2.1, for Mazda MX5s, was well supported with Alexander Smith the winner, closely followed by David Newman, and they were 3rd and 4th fastest overall in Saturday's class for HSA B licence holders. Steve Devereux was third quickest MX5 driver.
Putting his 4 wheel drive to good advantage in the slippery conditions, Andrew Cottrill was the fastest of the Saturday runners in his trusty Subaru Impreza and in fact came out top of the A3 class for over 2-litre roadgoing series production cars. Colin and Sarah Davies, in that order, completed the A3 runners in their very nice BMW 330Ci.
Colin Bowdidge was a lone B1 runner in his Caterham Supersprint, but there were two B2 contenders, with Simon Price pushing co-driver Paul Evans into second place in their shared 2-litre Westfield SEiW. Martin Rutter ran alone in his Fiat X-19 on Saturday in Class C1, but was joined on Sunday by Julian Harber in his Mini Clubman, who achieved a strong second place in the A licence Modified Series Production 1400cc class. The ever enthusiastic Dave Mockford ran solo in the crowd-pleasing class C1 Austin Maestro, as did Graham Mintram in his class D 900 cc Sylva Phoenix.
The only single-seater runner on Saturday was Stephen Potter in his class I1052ccMagapin-Kawasaki, and he ran second overall to Andrew Cottrill. Chris Jones also competed in the 1100cc single seater class on Sunday and was rewarded with a new HSA class record, lowering his own mark by 0.41 seconds, but such is the pace in the 1100 class these days that he was 13th out of 24 starters!
Of the other Sunday competitors, Paul Batey brought out his interesting Hillman Imp-Kawasaki – not something you see every day – coming third in the 2-litre sports libre class and scoring points in HSA class F. Les Buck was second in class H for 600cc racing cars after his OMS Hornet had been patched up overnight following a practice excursion, and Charlie Reilly upheld HSA honours in the Formula Ford class with his Van Deimen RF92. Finally, Mike Henney in his HSA class V Lotus Elan was delighted with second place in Class A1, Roadgoing Series Production Cars up to 2-litres, beaten only by Dave West's more contemporary Peugeot 106 GTi.
For a report on the Midland Hillclimb Championship section of the meeting, go to 'News'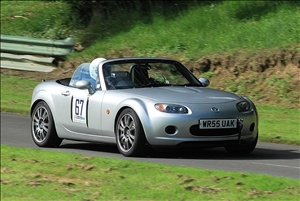 Alexander Smith set the pace among the MX5 entry (Chris Bennett)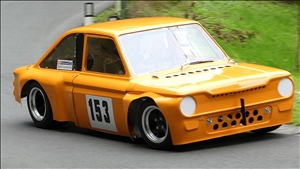 Not your usual Imp! Paul Batey's Kawasaki powered version (Ian Beard)
---
Rain stops play at Anglesey
Event 17 at Anglesey on 19/06/2016
The Sunday event was run over 2 laps of the National circuit and saw a couple of additions to the HSA competitor ranks.
However, the weather did not co-operate. It started as heavy mist - very damp, but not raining. Somehow things seem to get damper with the mist turning to the finest lightest drizzle but this turned to light rain towards the end of T1 which was taken immediately after practice had been completed and before lunch.
There was a brief respite from the rain at about 12.45 pm (during lunch), but then it started to throw it down, and after a course inspection by the Clerk of Course, during which he noted 3 or 4 rivers flowing across the track, one of which was in the braking area for the hairpin, he decided to terminate the meeting at about 1:30. This left most competitors with a poor points score and an unsatisfactory end to the week-end.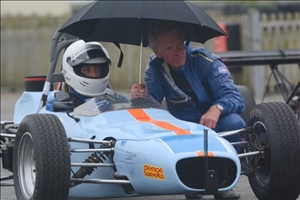 Umbrellas were needed on Sunday. Jonathan Baines' Merlyn MK20 (N Lambert)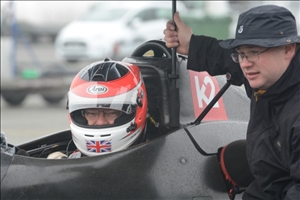 MBE's Chris Price on umbrella duty for Steve Miles (N Lambert)
---
The few enjoy Anglesey International
Event 16 at Anglesey on 18/06/2016
Time was when any event at Anglesey was oversubscribed with a lengthy waiting list but that was then. For a warm June week-end on a choice of two excellent tracks there was a disappointing entry both days for a combined British Sprint, SBD HSA, Service Hydraulics, Westfield and various other Championships.
Only 9 HSA competitors were present on Saturday on the International circuit and enjoyed three practice sessions and two timed runs in fine conditions. British Sprint regulars Matt Carter, Stever Broughton and Matt Hillam all set new HSA records and scored well with Broughton just ahead of Hillam in their shared SMD Dallara by 4 tenths on this occasion.
Paul Trill and Leigh Andrews were both out in their rotary engined Mazdas and, although in different classes, were only separated by a few tenths with Andrews ahead by a few tenths despite a spin on T1.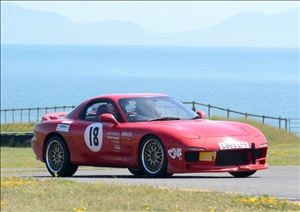 Paul Trill's RX7 battled Leigh Andrews RX8 (N Lambert)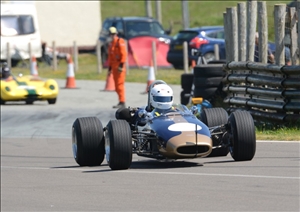 Alan Terry leaves the line in his Nike MK8 (N Lambert)
---
Figure of 8 Skating at Curborough
Event 15 at Curborough on 12/06/2016
A great turnout for H.S.A. members at the long running Owen Club Event, with 21 coming out to play.Unfortunately the sun didn't come out to play much, - it was mainly the ducks enjoying themselves. The weather started off dull but dry for the pre-event activities, but as soon as practice runs started, so did the rain. The rain was on and off (although seemed more on than off) during the morning which made the practice runs seem to take forever. This was no fault of the organisers and marshals, who always had a car on the start line ready to go, but just that the runs were relatively slow and the Figure of 8 course takes 70 – 80 seconds for most in the wet. The weather was highly changeable and the track always wet, so a few of the racing car and sports libre pilots opted to do one just the one practice run.
Just before lunch the rain stopped and the track dried reasonably quickly, so most people got a dry first timed run in, only for the rain to return for most of the second timed runs. So the day was all about who could make the most of their first timed run.
Andrew Till drove his bright yellow MG ZR to first place in the Roadgoing up to 1400cc class, in an all Rover product class (a Mini and a Metro were his close competition), and took the H.S.A. record as well.
A good contingent of MX5's competed in the Roadgoing 1400-2000cc class, with Ken Morris coming out top, but were all beaten for H.S.A. honours by Mike Henney in his original Lotus Elan, who ended up 4th in class.
Andrew Cottrill brought his Impreza to the top of his class, as did David Owen (OMS 2000M) and Steven Potter (Megapin ), who set identical times to finish joint first in their 1100 cc racing car class.
Russel Haynes came out top in the family Zeus Formula Ford, and took the class with a new HSA Record.
There were a few classes with only one entrant in, namely Laurence Marks, Jonathan Plowe and Rowland Turner all having fun on their own.
With the track wet for the second timed runs, a lot of the fast kit cars and single seaters decided not to take their second timed runs, which helped the meeting to finish before the curfew time.
The rain decided to really have a go at the end with the prize giving being held under the Paddock Office plastic awning,- it was raining so hard that we could hardly hear the names of the winners.
Report - Eric Morrey
Photos - Bob Ridge-Stearn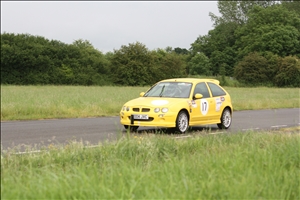 Andrew Till MG ZR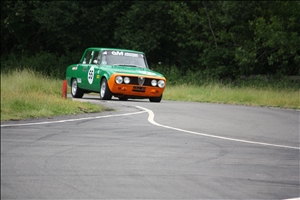 Philip Stader Alfa Romeo Berlina
---
Barbon In The Rain
Event 14 at Barbon Manor on 11/06/2016
A very wet day, all day……all photos from the safety of the lower paddock as a dinghy would have been required to make a descent from further up. Very friendly club and well run event in a fabulous setting of rugged parkland on the edge of the Lake District.
Just 5 members of the HSA made the trip North, Graham Proctor (2) in his Fiat Abarth kicked off first and found his Burt Strut judged too high, luckily the obvious fix of letting air out of the tyres was not required in the end!
Ken Morris (21) in a crowded Mazda/MG/Honda class took his MX5 along.
Eric Morrey (50) brought his recently finished Hillman Imp along with new gearbox parts and great hopes for them, the car certainly not looking like all those Imps I recall in the 60's. Much of his previous Clan Crusader had made its way into the Imp – and a great colour combo to boot (matches the overalls too, very smart).
Graham Mintram (68) in a class of just 4 brought along his Sylva Phoenix – the 3 others were locals and in "sevens" of menacing power and weight, he found himself in the lead of the class after the first run by 4 seconds, two had left the track and damaged their cars but thankfully not themselves the other (#70) obviously got "fritted" by his chums experiences and took a cautious run. Run 2 allowed #70 to get his mojo back and Graham came in second in class.
Nick Scott (90) in a class of just 4 took his Force HC north, which he won, and achieved 2nd FTD.
Clearly all times recorded (yet to be published) will be well below the targets due to the weather and so point hauls will be small against the travelling inputs – but I'd go again, I would however commend taking "midge spray"!
Graham Mintram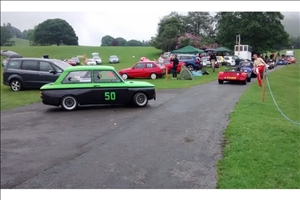 Eric Morrey heads to the start in his Imp (G Mintram)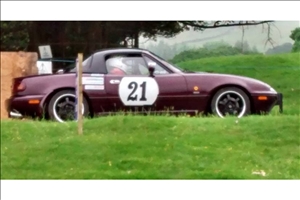 Ken Morris in the 'Merlot' MX5 (G Mintram)
---
Hillam and Broughton Strike Again!
Event 13 at Pembrey on 05/06/2016
An even warmer day greeted us on Sunday and once again Class SP started with Graeme Proctor's Abarth which improved significantly to a142 .44 for 2nd place.
In class 1B David Newman took another 3rd place on 135.74.
In 1C Brian Jones upped the anti and went one place better to take the class on a fine 124.45.
Mike Smiths Striker tookclass 2B on a 120.86 – a 2 second improvement on Saturday.
In Class 2E Elen Worthington took the win this time on a 136.35.
Phillip Strader repeated his 3rd Place in 3B on a 136.01.
With Graeme and Becky Manton's Fisher Fury unable to run, it was onto class 4A and Matt Carter. This time Matt lowering his time to 101.05 for another class win.
In the over 1400cc split Clive Wooster continued his run of good form, lowering his time to 106.38 to take the class win.
In the single seaters it was again Matt Hillam who took the win on a 95.94 to Steve Broughton's 97.24 2nd place. Tony Jarvis took 4th on a 101.62 and Martin Webb 5th on a 102.
Mike Henney's Elan improved significantly to take class 7 again on a 136.56
Clive Wooster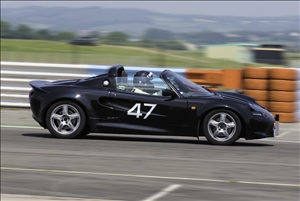 A class win for Elen Worthington in her back up (!) Elise (T Davies)
---
Matt Hillam on Top at Pembrey
Event 12 at Pembrey on 04/06/2016
The weekend kicked off as it meant to continue with a dry, grippy track and the first of 16 HSA contenders was in Class SP with Graeme Proctor's Fiat Abarth taking 5th place on a 145.78.
In Class1B David Newman's MX5 Sport was being conducted well and took 3rd place on a best of 133.76 against some much more modified machinery.
In 1C the lovely Cayman GT4 of Brian Jones was oh so close to a class win with a best of 123.86 for 2nd place. Peter Ellison's Golf came in on a 138.12 for 5th place.
In Class 2B the Sylva Striker of Mike Smith hit a 122.07 to take the class win.
Meanwhile in Class 2E Elen Worthington's Elise hit engine problems on the Friday before the event and their "spare" Elise soft top was wheeled out . In this standard car Elen recorded a 138.92 for 2nd place.
In Class 3B Phillip Strader's lovely Alfa Romeo did well to stay in touch on a 139.74 against much more contempary machinery.
In Class 3F the shared Fisher Fury Spider of Graeme and Becky Manton was going well until on T2 Becky tried just a little too hard through Dibeni putting the car out of contention for the rest of the weekend. Graeme recording a 130.80 to Becky's 134.09.
With Sports Libre split into up to 1400cc and over Matt Carter's PR6 was next in class 4A. Matt got around 102.32 for the class win.
In the over 1400cc split Clive Wooster's Radical SR4 beat it's previous PB by over 2 seconds to record 107.63 for the class.
And so to the 1600-2000cc class of single seaters and Matt Hillam took the class here on 94.58, pipping Mr SBD Steve Broughton into 3rd place on a 97.74. Tony Jarvis in a similar Dallara took 5th on 104. 65 followed by Martin Webb on 105.99.
Our final runner in class 7 was Mike Henney in the lovely Elan who recorded a 139.13 for the class.
Clive Wooster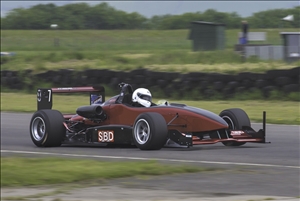 Matt Hillam in the SBD Dallara (T Davies)
---
Many new HSA records at Sunday Snetterton
Event 11 at Snetterton on 22/05/2016
Despite the forecast of overcast and wet weather the SBD HSA Speed Championship competitors enjoyed another dry day at Snetterton. Although it was decidedly cooler that the day previously track conditions were, if anything, a little better and the improvement in times saw plenty of new HSA Class records set.
These included Stephen Laing (Caterham R500), Gavin Neate (repeating his performance from the day before in the Peugeot 106), Jeff Wiltshire (Sylva Phoenix), Matt Carter (extending his Championship lead in the Radical PR6), Gary Thomas (Force PC), Matt Hillam (Dallara F301) and Fyrth Crosse (Ensign LNF3).
Graham Blackwell is clearly motoring quickly up his own personal learning curve as he improved by nearly 7 seconds from the previous day and moved much closer to Pete Goulding's times in the similar Mygale.
Neither Charlie Reilly (Van Diemen RF92) or Chris Bennett (Force PT) could quite match their times set a year ago and Sandy Smith again fell just short of the Mugglestone MX5 record but not for the want of trying after improving on his Saturday time by one hundredth of a second!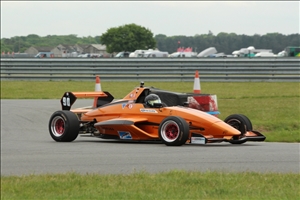 Pete Goulding won the battle of the Mygales (A Leivers)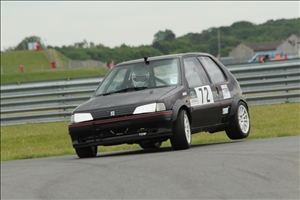 Gavin Neate lifts a wheel on his way to 2 records in 2 days (A Leivers)
---
Carter takes Championship lead at Snetterton
Event 10 at Snetterton on 21/05/2016
On the first day of the Borough 19 Snetterton double header Gavin Neate (Peugeot 106) took maximum points with a new HSA Class record while Matt Carter (Radical PR6) again scored well to take the lead at the top of the Championship table. Just behind Matt in the Championship Sandy Smith (MX5) was going well, getting to within half a second of Alan Mugglestone's class record but wanting to do better!
Stephen Laing won his Class on the day in the Caterham R500 as did Jeff Wiltshire in his rapid Sylva Phoenix. The battle of the Mygale M13s was easily won by Peter Goulding's more modified example over Graham Blackwell's more standard version as Graham continues to make the adjustment from a Fiesta!
Former HSA Championship co-ordinator, Peter Hubbard, made a very welcome return to competition driving David Bennett's Marcos GT and got close to his HSA Class record set in his similar car.
There were a number of competitors having their first ever event. Brothers, James and Alex, Evans in their Mazda RX8 improving their times steadily and closing in on another returnee, Leigh Andrews in a similar car. Steve Devereux was back out in his red MX5 (although a different car to last year) and was joined for the first time by son Lewis driving a BMW Compact which he had bought for a few hundred pounds. Lewis steadily reduced his times in a car that he has worked on himself and really looks the part.
Finally, an enthusiastic Geoff Lancaster was also having his first outing in his Renault Clio 2.
The event was run with the usual efficiency that we have come to expect from Borough 19 and competitors were pleased to get two practice and three timed runs.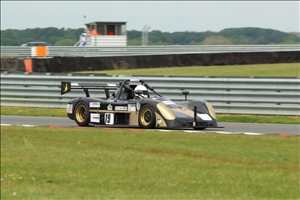 Matt Carter extended his Championship lead in the Radical (A Leivers)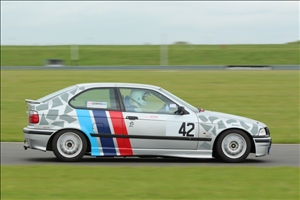 Lewis Devereux had his first event in his smart BMW (A Leivers)
---
Slippery Sunday at Werrington
Event 9 at Werrington on 01/05/2016
This was a double header weekend and all but Fyrth Cross stayed for the Sunday event which started with grey skies and the prospect of rain, which did eventually arrive allowing only one dry run and times were slower than the Saturday. There were several offs with Dave Mockford close to becoming one of the casualties. A special mention for Martin Rutter who could not get his X19 ready for the weekend so joined the club of "sweetheart can I borrow your car this weekend" and did himself proud in his wife's 4x4 Fiat Panda. Proper job Martin. In the MX5 class David Newman got the better of Sandy Smith to claim top position.
At the end of the weekend we see four of the Werrington entrants in the top ten of the SBD HSA Speed Championship (David Newman, Sandy Smith, newcomer Dave Mockford, and Steve Devereux and Matt Carter has been pushed out of first position by David Newman who now leads.
(Chris Falcon)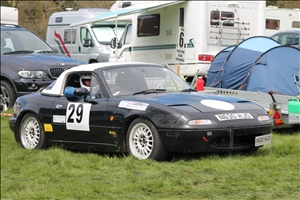 David Newman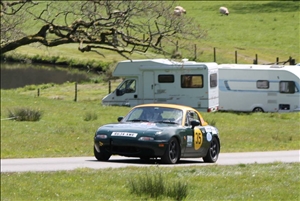 Chris Falcon
---
Large MX5 class in Cornwall
Event 8 at Werrington on 30/04/2016
Ten HSA Championship contenders made the trip to Werrington Park in Cornwall for the eighth round in the calendar and five of these were in the ever popular MX5 class (Class A2.1).
First practice was used to get some rubber onto the green hill allowing drivers to use the 2nd run to get an idea of the grip levels. In the afternoon in the completion runs, in Class A2.1 David Newman came out on top ahead of Sandy (Alex) Smith, Steve Devereux, Chris Falcon and Steve Dally. Julian Harber (Mini Clubman), Dave Mockford (Austin Maestro), Graham Mintram (Sylva Phoenix), Mark Haynes (Zeus Formula Ford) and Fyrth Crosse (Mallock U2) were alone in their HSA classes though not in the event classes of course.
(Chris Falcon)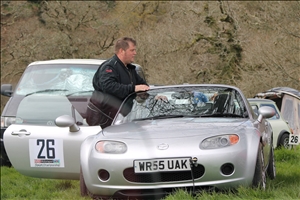 Sandy Smith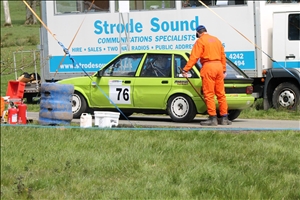 Dave Mockford
---
Broughton and Hillam Take First and Second Overall
Event 7 at Goodwood on 23/04/2016
The day dawned with relatively clear skies, some sunshine but temperatures struggling to reach 6 degrees. The track was dry but cold – the 10 HSA competitors that made the journey to the south coast looked to be in for a good day's motorsport.
The weather did warm up but a cold wind set in which didn't help the track conditions – quite a few competitors had exciting exits from the chicane, which entertained the sprinkling of spectators.
Bognor Regis Motor Club ran the event very efficiently so that all competitors had three timed runs; the following times relate only to the first two timed runs, which count for the HSA championship.
Steve Broughton and Matt Hillam were undoubted stars of the show in class K; their Dallara looking good, sounding great and behaving on the day – their times of 76.23 and 77.64 respectively took them to first and second in class and first and second overall – both drove well with Steve coming out on top.
In class A2 there was a very close battle in which Helen Currie in her Renault Clio set a 116.18 to edge out Graeme Proctor in his Fiat 500 Abarth who set a time of 116.22 – just four hundredths in it!
Class A2.1 had three competitors all in their MX5's – David Newman posted a very creditable 103.93 which gave him an overall class win on the day with Steve Deveraux on 112.73 and Stephen Dally on 115.74.
Peter Elliston was alone in Class A3 in his VW Golf GTI and posted 107.48 on his first run.
Michael Butler was also a lone competitor in C3 in his BMW M3E92 setting 93.26 on his first run. He couldn't match it on his second run but this did give him a class win on the day.
Matt Carter in Class F was a very creditable third overall on the day with a 78.53 in his very well sorted Radical.
Last but not least of the HSA competitors was Jon Smith in his Sylva Striker who set 95.72 on his second run and that gave him the class win on the day.
Overall the competitors seemed to agree that the journey south had been well worth it – the opportunity to drive the classic Goodwood circuit in reasonable conditions was certainly worth it.
Onwards to the next event at Werrington on the 30th and 31st April – such a contrast from Goodwood.
(CH-H)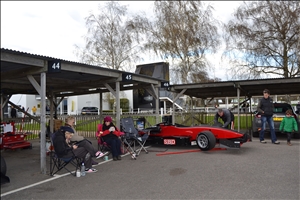 The Dallara of Broughton and Hillam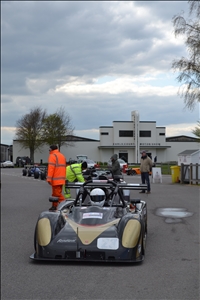 Matt Carter's Radical at the Head of the Queue
---
PBs but no class records at Loton
Event 6 at Loton Park on 17/04/2016
Eighteen HSA Championship contenders were at a sunny Loton Park for Round 6 of the championship on Sunday 17th April though only sixteen were eligible for points as Richard Yapp and Bob Ridge-Stearn entered in different cars to the ones they had registered for the championship. Richard sharing Jamie's Nova instead of driving his MX5 and Bob driving his wife's S2000 as the clutch has gone on his Elise.
Alone in Class A1 Jamie Yapp (the younger of the Yapps) recorded a time of 68.43, just a little slower than the HSA class record, which he himself holds (67.94), but that was good enough for the class win and 15 points.
The MX5 class (A2.1) also had only one entrant, which is unusual as Loton normally attracts quite a number, but I see five of them went south to Gurston on the Saturday so that may explain it. This lone MX5 belonged to Michael Tindale, who has been in HSA Class 2.1 since 2010 and was delighted to record a PB of 70.56 at this meeting.
In the Roadgoing up to two litre class (A2) Alistair Clark (Lotus Elise) and Graham Procter (Abarth 500) collected HSA points though they were not in the same class on the day as Alistair is also entered into the Bugatti Owners Club Championship and they had their own class.
The over two litre roadgoing class (A3) was very well supported with five drivers entered. Andrew Cottrill in his very fast Imprezza came out on top of the HSA contingent and also won the class with a time of 58.64 (which Resultsman records as a PB even though we have Andrew setting the HSA class record last year at 57.30). Behind Andrew came Mark Laws who had a Fail on his first timed run but got things right on his second in his Mini Cooper and then Paul Trill in his very distinctive sounding rotary RX7. Bringing up the rear were Colin and Sarah Davies in their very standard looking BMW 330ci with Colin getting the upper hand, though after first practice Sarah must have thought she was in with a chance, having beaten her husband. It will be interesting following their battle throughout the rest of the season.
Mike Gallery, Morris Cooper S, was alone in class C1 (Modified Series Production Cars up to 1400cc) but with a PB of 61.41 beat five others to get the class win. Martin Rutter was a non-starter in his X19 – not sure why.
IN C3 (Modified Production over 2000cc) Chris Berrisford (Impreza) also achieved a PB (59.57) and also won his class.
Paul Wells was alone in Class H (Racing cars up to 600cc) and had problems with the diff on his Jedi but was able to complete his first timed run and so score some points.
Steven Potter (Megapin), despite recording the best, and very impressive, 64 ft time in his class of 2.11, could not get the better of the other Loton regulars in the 1100cc Racing Car class but did record a PB of 56.11. On the subject of 64 ft times, Chris Berrisford did a 2.07 on his first timed run (not his fastest) and to put these times into perspective, Alex Summers in his Gould, when he recorded his PB of 44.00 seconds last year, got to the 64 ft mark in 2.05 seconds.
Graeme Williamson in his classic Imp was entered in the Modified Production class up to 1400cc with Mike Gallery though they are in different HSA classes, Mike being in C1 and Graeme in Class N for "Modified Specialist Production Cars with Imp engines". Graeme must have been very pleased with his PB of 74.04 despite not being able to get close to Mike's time in his Cooper S.
Mike Henney in his Lotus Elan (class V) scored 15 points with an impressive time of 63.99, not far short of Geoff Stallard's time of 63.35 set in his TVR Vixen in 2011.
Finally, Ed McDonough (Dulon MP15 Formula Ford), in his third HSA event of the year earned enough points to put himself in tenth place overall in the championship which is still led by Matt Carter though Andrew Till and Ken Morris are close behind.
(Bob R-S)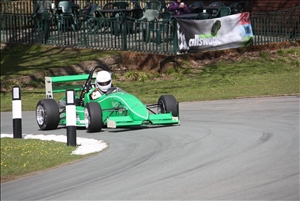 Steve Potter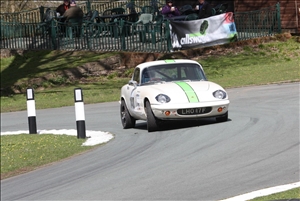 Mike Henney
---
THOMAS HEADS STRONG HSA CONTINGENT AT GURSTON
Event 5 at Gurston Down on 16/04/2016
Suzuki engines reigned supreme on a bitterly cold day at Gurston Down where grip was at a premium. Venue expert Peter D Smith set the outright pace with a 30.13 in his Force-Suzuki, threequarters of a second clear of Jonathan Gates' supercharged sports libre Force. Simon Marsh was a close third overall, ninth hundredths adrift in his supercharged DJ Firehawk and just a tenth clear of the fastest SBD/HSA Championship contender, Gary Thomas, fourth overall in his Force single seater and one of the three top scoring HSA runners on the day, all of whom set new Championship class records with a maximum 17 points.
Amid a 26-strong turnout of HSA contenders, Andrew Till was the second record-breaker in his MG ZR105, moving up to second overall in the Championship in the process. Thomas moved up to fourth equal, while the remaining record-breaker was Adam Greenan, scoring his first HSA points of the year in the re-shelled Honda Civic Type R which was spectacularly rolled at Gurston last year. He shares the car with his brother Andy, who is not a registered HSA contender, but the pair enjoyed a tremendous duel to head Gurston's competitive 2-litre Roadgoing class. Adam led Andy after the first runs until his brother snatched the class by fifteen hundredths second time up. But in another one/two for the pair at the following day's Gurston Championship round it was Adam's turn for the win as Andy elbowed out Paul Webster's Mazda to take second place.
The HSA's Chris Berrisford scored well in his Impreza, also winning the opening class on the day for SBD/BARC Road Legal cars, his 15 points equalled by classmate Malcolm Johnson's Cooper S. With three HSA runners in Gurston's popular Historic class, Fyrth Crosse took top honours in the ex.Mike Wilds Ensign, shading out Gurston regular Hugh Kemp's Palliser, originally run in F3 by Damien Magee, by six hundredths. Mike Broome's Alexis and Jeremy Smithson's Merlyn FF were next up.
Full list of times available here.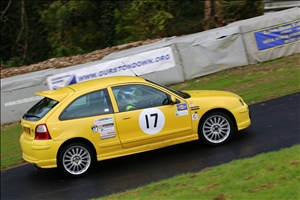 Andrew Till and the MG ZR105 moved into a Championship second place at Gurston (Akina Media)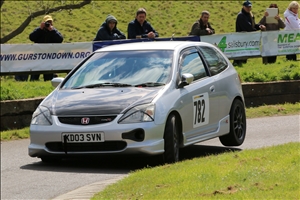 Adam Greenen opened his HSA account with a typically forceful drive in the re-shelled Honda Civic (Akina Media)
---
Spedding by 2/100ths from Menzies at Harewood
Event 4 at Harewood on 10/04/2016
In a great shoot-out for FTD, Richard Spedding out-gunned Wallace Menzies and Will Hall to take the top prize whilst several notable drivers had problems. The day got off to a slow start with the programme delayed by just over an hour due to impenetrable mist which filled the valley. We then had a series of 'early season' breakdowns which also led to multiple re-runs. After the lunch break we only managed to get in two further runs due to all that lost time in the morning plus further delays along the way.
There were several class records and Harewood also successfully introduced a 'new' class by splitting over two litre roadgoing saloons and sportscars into two - the first for two wheel drive cars and the second for the four wheel drive cars.
Of the HSA competitors only Steve Brown, in his Westfield Megabusa, scored a maximum by setting a new HSA class record desoite a misfire - he also claimed STD on P1 with a 201.56s when his nose cone fell off! Gary Thomas got close to the HSA class record but was hampered by a bent gear change cable.

Full report in the next Speedscene.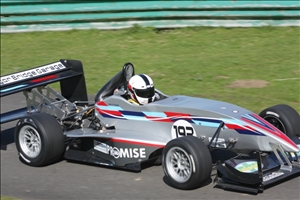 Gary Thomas had gear change problems (S Wilkinson)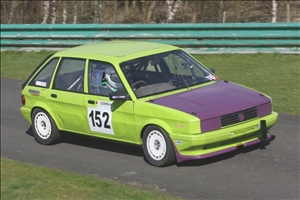 Dave Mockford in his Mod Prod Maestro (S Wilkinson)
---
Cold & wet at Croft
Event 3 at Croft on 28/03/2016
Croft is quite a long trip for many and a cold and wet Easter Monday didn't appeal to many HSA competitors. Apart from those who were also taking part in the British Sprint event only Ken Morris, in his familiar MX5 Merlot, made the trip.
The morning was very wet but conditions improved for the afternoon although it stayed very cold. Despite this Ken and Matt Carter were able to establish new HSA marks, as did Championship sponsor Steve Broughton who headed a quartet of ex Formula Three Dallaras.
Graham Blackwell was also out having his second event in his 'new' Mygale M12 while Speedscene contributor, Peter Herbert, was also present with his 911. Of the rest Richard Kerr and Terry Everall both set times in their Westfields that would have pleased a number of the racing car competitors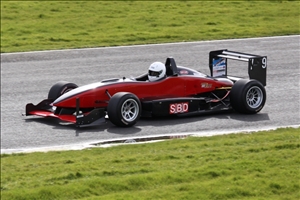 Steve Broughton won the battle of the Dallaras (Kim Broughton)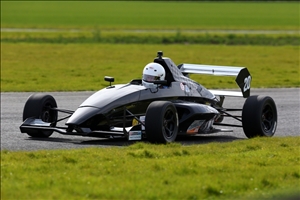 Graham Blackwell in his ex Formula Ford Mygale M12 (Tony Todd photography)
---
All SMiles at Rockingham sprint
Event 2 at Rockingham on 20/03/2016
For the third year in a row, BARC Midlands Centre somehow managed to offer dry weather for their March sprint at Rockingham Speedway, although between the occasional spells when the sun broke through, the cloudy conditions were much cooler than in 2014 and 2015. Despite this, several new records were set, most notably by Steve Miles in his 2 litre Van Diemen, who not only took FTD, but also lowered the outright course record on his last run to 65.52 seconds. Steve said that aero changes to the car developed with Oxford Brookes University over the winter had certainly helped with corner speed, and further improvements are being planned.
The event formed rounds of some eleven championships, including the SBD HSA Speed, Service Hydaulics and BARC SBD Speed Championships, with 106 competitors completing their two timed runs. Over 20 SBD HSA Speed championship contenders took part, and there were some strong performances between them.
Steven Needham won the under 1400cc standard production class in his Smart Roadster, just 0.01 seconds outside the HSA class A1 record. Steven Riddle took the win in the well supported 1401 to 2000cc division in his Ford Puma, with Helen Currie (Renault Clio Trophy) close behind in second place and Ken Morris ( MX5) in fourth position. Andrew Till (MGZR 105) took third place in the up to 1400cc standard production class. Fred Currell's Golf GTI was the victor in the 1401 to 2000cc standard production class, with HSA runners Mike Henney and Elen Worthington 5th and 6th. Mike demolished the old HSA class V record in his (new to him) Lotus Elan S3.
Other notable performances included Steven Laing winning the over 1701cc roadgoing specialist production class with his Caterham R500, and Gavin Neate taking second place in a combined class for both modified series and specialistcars up to 1400cc behind Terry Everall's Westfield. In doing so, Gavin lowered the HSA class C1 record by 0.56 seconds. Ivan Russell was third in this class, looking very committed round the banking but declaring that Gavin had a more aerodynamic car than his Ford Anglia 105E! He did, however, win the award for FTD by a BARC member.
Sadly Geoff Kershaw was unable to run in class 10 for over 2000cc modified series and specialist cars. He was the victim of a freak accident on the sighting run when two competitors stopped side by side in front of him for no apparent reason, leaving Geoff with nowhere to go except the wall, and the Sierra Turbo too badly damaged to continue.
Matt Carter won the under 1700cc sports libre class in his Radical PR6, lowering the HSA class record by over a second to 68.16, and taking 3rd FTD in the process, just behind Malcolm Boorman (1398 cc OMS 2000M) who took 2nd FTD.The up to 1100cc class was closely fought with Tony Beesley (Jedi Mk4) just shading out Simon Boulter ( OMS 2000M) for the win by 0.34 seconds.
Class 18 for over 2000cc saw three turbocharged Mygale recent Formula Ford chassis in action, with Andy Lawrence coming out on top, and Peter Goulding second, just 0.34 seconds in arrears, but setting an HSA class record in 71.64 seconds. Mark Haynes (Zeus ZR163) and Charlie Reilly ( Van Diemen RF82) fought out the spoils at the head of the pre 96 FF1600 class, with Russell coming out on top, and setting a new HSA class J1 record. Last but not least, the 2015 HSA Competitor of the Year, Rowland Turner, set an HSA record for class U in his Ford Escort Mexico.
And finally - the paddock was treated throughout the day to "music" from Steve Miles' trailer-mounted sound system. Rumour has it that next year there will be a collection between the competitors for some new CDs!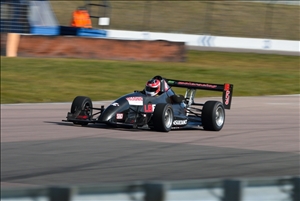 Steve Miles took FTD (Jack Flash Photography)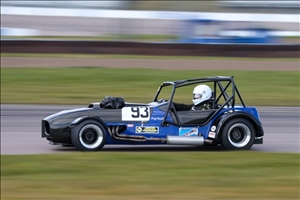 Terry Everall's Westfield was the fastest Mod Prod (Jack Flash Photography)
---
Broughton & Smith star at Combe
Event 1 at Castle Combe on 19/03/2016
Round 1 of the 2016 SBD HSA Speed Championship saw around 20 HSA competitors turn up at Castle Combe on March 19th, for theGreat Western Sprint organised by the Bristol Motor Club. It was also the first round of the British Sprint Championship and to accommodate the Top 12 Run Off practice was restricted to a single run in order to ensure a finish in daylight as the clocks were yet to be moved forward for British summer time.
There were a number of competitors taking part in their first ever event including Dave Mockford in his ex MG Maestro Challenge car which he had spent many months preparing and Peter Elliston in his Golf Gti.
Andrew Till was back in an MG after a spell in a Renault Clio and going well. Andy Mitchelmore, with new shock absorbers all round on his Elise – and 5 seconds up on his Combe PB, was only a second and a half away from Elen Worthington's similar car. The MX5 class had15 competitors as this was a round of the Bristol Motor Club's MX5 challenge and was won by Sandy Smith in an astonishing time of 156.20s which put him ahead of all the Elise's and no few Locaterfields. HSA competitor David Newman was third while Ken Morris drove hard (and got under the HSA record) but was some way behind in his less developed car.
Matt Carter (Radical), Steve Broughton & Matt Hillam (SBD Dallara) and Tony Jarvis (Dallara) were also competitjng in the British Sprint Championship and set new HSA records.
Finally, Fyrth Crosse brought his 1098cc Mallock U2 MK2 along to set a new Class W record.
Unfortunately Philip Stader, in his pretty Alfa Berlina, wasn't able to set a time even though he managed to complete his practice run but this was more than Martin Pickles who had to retire his Jedi with suspected clutch problems.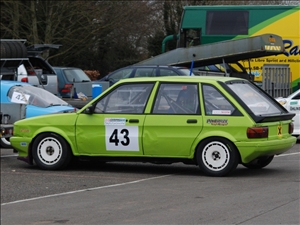 Dave Mockford's ex MG Maestro challenge car at Combe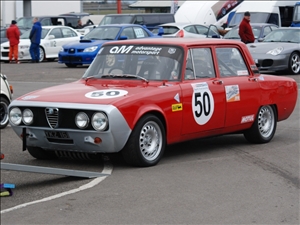 Philip Stader's Alfa Berlina didn't make the timed runs
---
Back to Top